Preferred Painting Contractors
We are the premier painting experts in Commercial and Industrial Painting.
Preferred Painting Contractors is family run and has been servicing Victorian businesses, government and residential projects for over 20 years. We have grown to include nearly 40 staff members that ensure each project is run smoothly.
Our team includes:
Director
Operations Manager
2 Supervisors
12 Full time painters and water proofers
15 Regularly used sub-contractors for larger projects
Estimator
Accounts Manager
We run our business by these core values:
Quality: We ensure that all of our projects include thorough preparation, application and post application inspections. We access a wide range of quality products to suit each project along with full technical support from our suppliers.
Professionalism: Each project receives the full attention of our project management team to ensure hand over is within your scope of works, on time, on budget and finished to the highest of quality standards.
Reliability: All projects that we undertake are quoted appropriately to ensure that we are able to achieve agreed goals. We work efficiently to ensure we meet all timeframes and expectations.
Safety: All of our staff are highly trained to meet all safety standards across all areas of our expertise, this includes the safe removal of hazardous materials, first aid and correct OH&S practices.
We value and understand the level of safety measures that must be in place at all times; There are no shortcuts! Each project that Preferred Painting Contractors undertakes are run to the highest safety standards.
Painting is our passion and we provide our clients with a professional and high-quality project from initial planning to hand over. With a large team of dedicated specialists supporting each other, we are able to ensure each project is completed to the highest of standards.
Contact us today.
---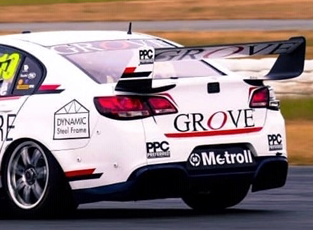 Client Sponsorship
At PPC we have teamed up with Grove Group both in their factory and on the race track.